Scotland sure to leave the UK says Sturgeon
Share - WeChat
SNP leader claims young people are increasingly favoring independence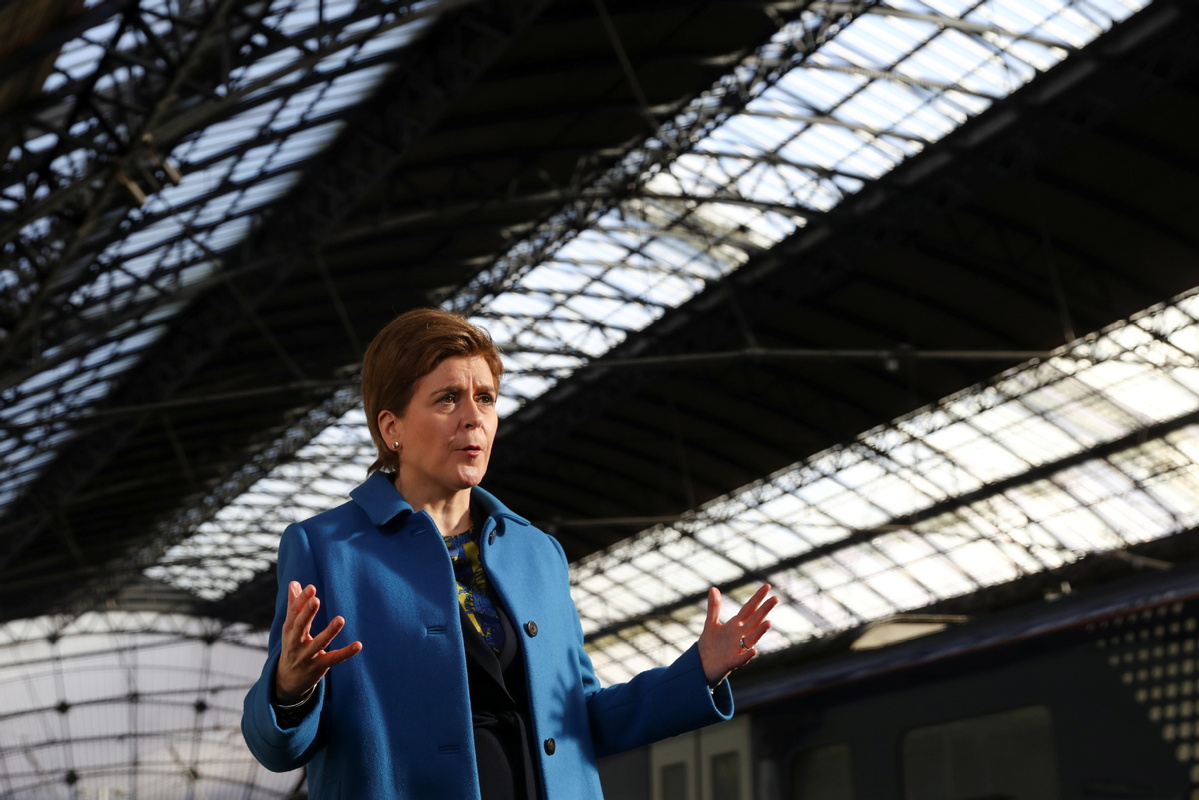 Scotland is certain to leave the United Kingdom, the leader of its Parliament said in an interview with the Financial Times.
Nicola Sturgeon, who heads the separatist Scottish National Party, or SNP, said it is only a matter of time.
Sturgeon and her party have been pushing for a second referendum on independence ever since they lost the first one in 2014; by 55 percent to 45 percent.
She said the refusal of the UK's central government to permit another vote must eventually turn to approval.
"I can't look ahead and tell you exactly how this constitutional impasse is going to resolve itself, but it will resolve itself, and it will resolve itself on the side of democracy, because actually, the alternative is pretty unthinkable," she told the paper. "I've got democracy on my side … if they think it's about playing a waiting game, I've probably got time on my side as well. You look at the demographics of the support for independence, well, I'm not sure that's going to get you out of this conundrum."
Boris Johnson, the UK's prime minister, has said he thinks such issues should only be put to a vote once in a generation.
Sturgeon said younger Scots support independence even more strongly than the older generation, so the chances of the SNP achieving its goal of breaking from the UK are improving over time.
She insisted Scotland would be worse off as part of a post-Brexit UK than as an independent nation that could choose to join the European Union.
"The consequences of not being independent are much, much greater than they, arguably, were in 2014," Sturgeon told the Financial Times. "Will it be worth it? Absolutely. We face change and transition now, whatever we do."
Scotland has been part of the UK for 300 years and spends more tax money than it collects because of a net flow north. But many Scots say oil off its shores would more than make up for any lost revenue.
The SNP won a fourth term in government in May and wants a second referendum by the end of 2023. And the party has said it may unilaterally hold one; if Westminster refuses.
But The Daily Telegraph said a Supreme Court ruling on Wednesday that found Sturgeon's government had exceeded its powers could sink thoughts of an unsanctioned referendum.
The ruling found two pieces of legislation passed by Scotland's devolved Parliament were incompatible with the 1998 Scotland Act, which underpins devolution, because they demanded UK ministers take action, effectively overruling the British Parliament.
The paper cited legal experts as saying the Supreme Court ruling means Westminster would have to consent to a referendum for it to be legal.
And Britain's Daily Express newspaper said Sturgeon's claim that democracy is on her side shows she is out of touch, because recent opinion polls show support for independence is fading.